Recordings/Discussions
Background Information
Performer Bios
Poet/Composer Bios
Additional Information
Born: January 2, 1896 - Eitorf, near Cologne, Germany
Died: October 30, 1973 - Heidelberg, Germany
Ernst-Lothar von Knorr was a German conductor and composer. He studied at the Cologne Conservatory with Bram Eldering (violin), Franz Bölsche (composition), and Fritz Steinbach (conducting).

After graduation, Ernst-Lothar von Knorr played violin in various provincial orchestras. In 1925 he moved to Berlin and taught violin at the Hochschule für Musik. He served as director of the Hannover Hochschule für Musik from 1952 to 1961, and the Heidelberg Hochschule für Musik from 1961 to 1969.

Most of Ernst-Lothar von Knorr's manuscripts perished in an air raid on Frankfurt am Main in 1944. His extant works include Concerto for 2 Orchsestra; Chamber Concerto for Piano, Saxophone, Chorus, and Small Orchestra; cantatas; choral works; chamber music.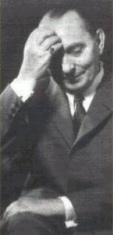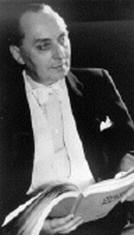 Source: Baker's Biographical Dictionary of 20th Century Classical Musicians (1997)
Contributed by

Aryeh Oron (April 2006)
Use of Chorale Melodies in his works

Title

Chorale Melody

Year

Cantata Nun ruhen alle Wälder
Bibliography
O. Riemer

, ed.: Ernst-Lothar von Knorr zum 75. Geburtstag (Cologne, 1971)
---
Last update: Wednesday, June 14, 2017 15:14