Ach Herr, mich armen Sünder
Examples from the Score with Commentary
Mvt. 1 Chorus | Mvt. 2 Recitative [Tenor] | Mvt. 3 Aria [Tenor] | Mvt. 4 Recitative [Alto] | Mvt. 5 Aria [Bass] | Mvt. 6 Chorale
This is one of many instrumental interludes illustrating the bassetchen texture of these sections (notice the lack of a basso continuo.) Here is an interlude very different from the others, for it strives upwards after the words about 'eternal life' have been sung. In the oboe parts at the top, the oboes vie for the next higher note each time. The running pattern in the strings inches upwards as well.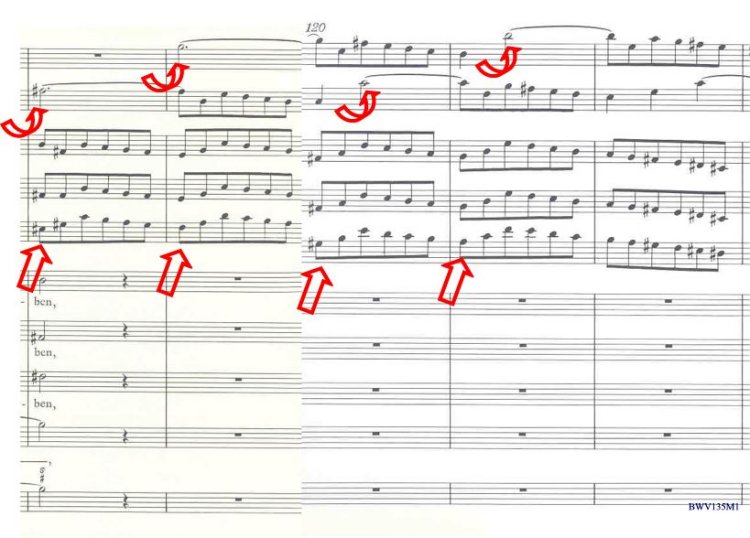 Some typical word coloration on the words, "den schnellen Fluten gleich," where the word 'schnellen' ("fast") is primarily represented by 32nd notes; "Wangen abwärts rollen" shows the tears running down the cheeks (downward pattern of notes); and "Schrecken" ("terror") has a leaping pattern and a break (a rest) in the middle of the word, as if one's breath failed at this point.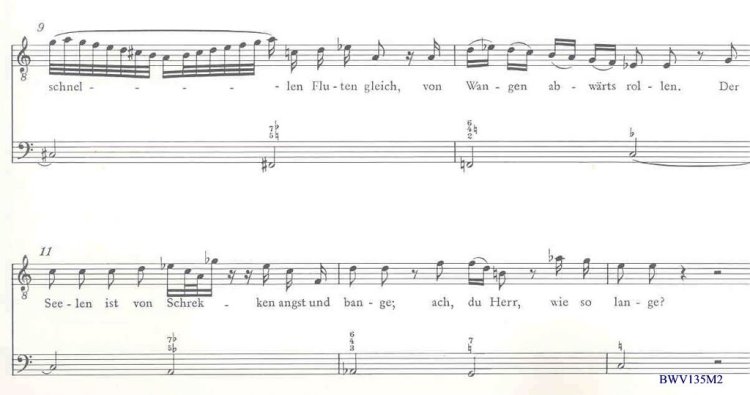 Here is the triple repetition of the words, "Sonst versink ich in den Tod" ("Otherwise I will sink down and die") with each repetition stepping downward and having a final dropping interval on 'Death.'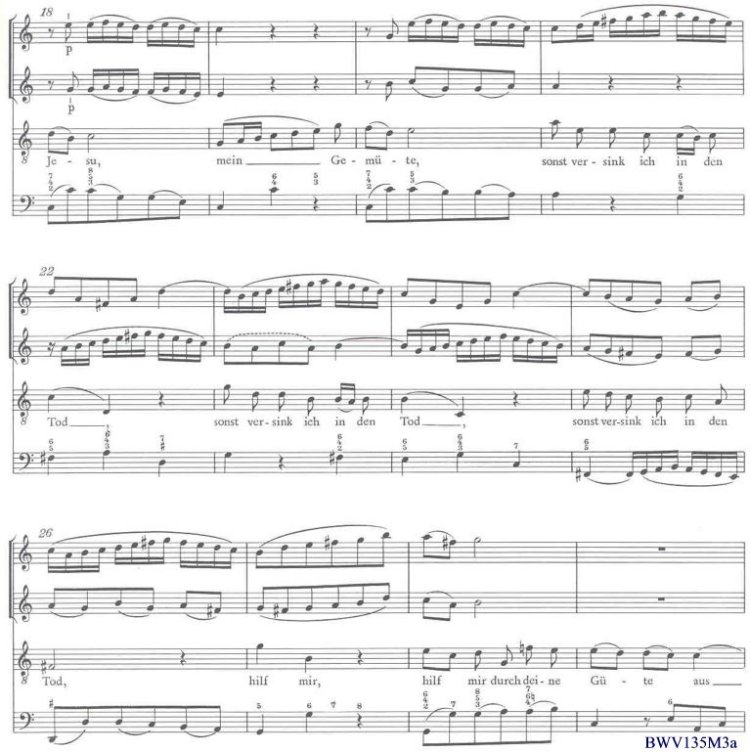 A very effective device (and one that proves that Schweitzer was wrong about this aria being a parody of another cantata) is the triple repetition of "Stille" ("stillness") with an echoing silence following each repetition of the word.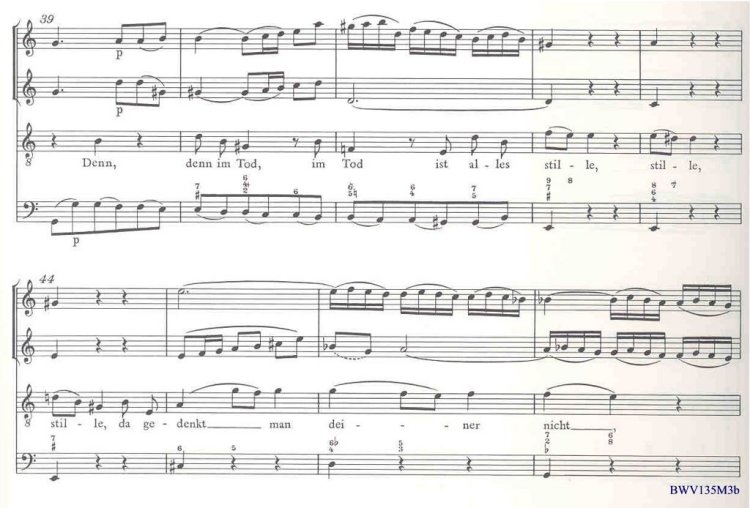 Very powerful, sorrowful effects are achieved in the short arioso section of the recitative before it changes to a secco recitative.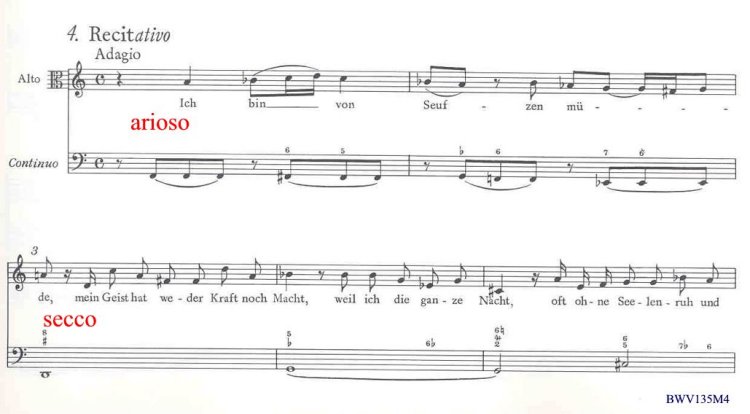 At the point when the bass sings about 'arrows bouncing backward', Bach introduces wild, jumping intervals and a special, complex rhythm that reflects this situation.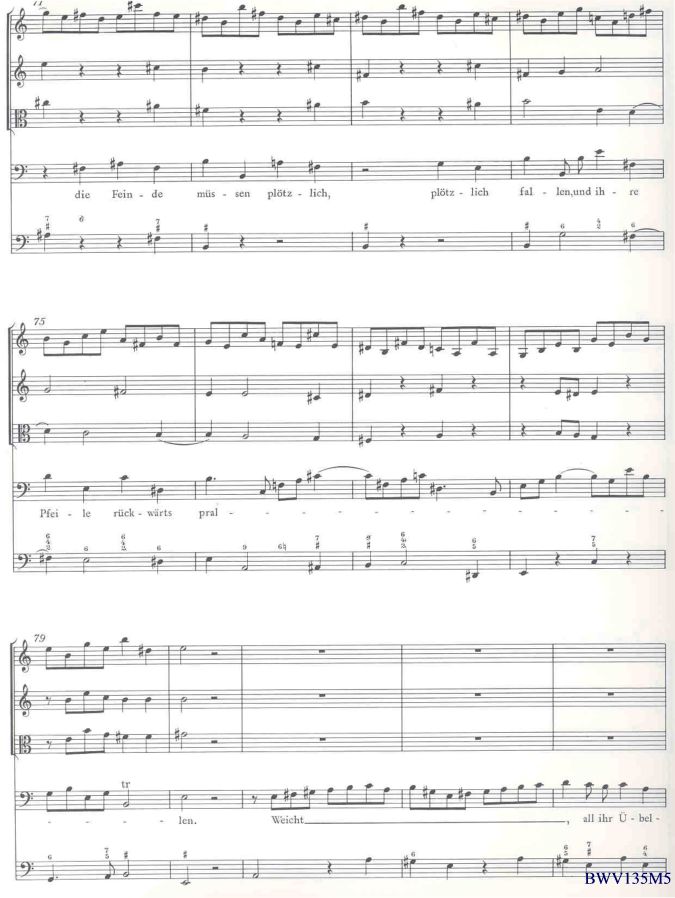 The chorale has a cornetto indicated to be used only here in this cantata, whereas the trombone played an important role only the 1st mvt. duplicating and supporting the cantus firmus.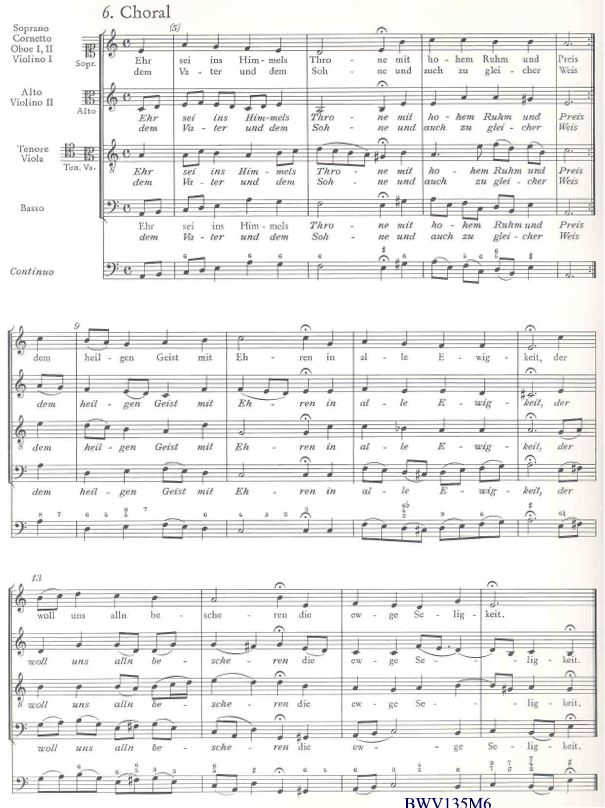 All snippets from NBA I/16
Contributed by Thomas Braatz (July 6, 2001)