Background Information
Performer Bios

Poet/Composer Bios

Additional Information

Recordings/Discussions

Johann Friedrich Doles (Composer, Thomaskantor, Bach's Pupil)

Born: April 23, 1715 - Steinbach-Hallenberg, Saxe-Meiningeen, Thuringia, Germany
Died: February 8, 1797 - Leipzig, Germany

Johann Friedrich Doles was leading composer of Protestant church music and Thomaskantor.

Life

Johann Friedrich Doles, was educated at the Schleusingen Gymnasium, where he availed himself of instruction in singing and in playing on the violin, clavier and organ.

In 1739 he went to Leipzig for a course of theology at the University, and while there pursued his musical studies under J.S. Bach. His compositions, however, bear little trace of J.S. Bach's influence. Doles would seem to have been more affected by the Italian opera, with which he became familiar by constaut attendance at performances given for the Saxon court at Hubertsburg. His light, pleasing and melodious compositions, together with the charm of his manners, rapidly brought him popularity at Leipzig. In 1743 the Gewandhaus Concerts were founded (They were then called das grosse Concert, and were held In a private house; they were Interrupted by the outbreak of the Seven Years' War) and on March 9, 1744 he conducted the first performance of his Festival Cantata in celebration of the anniversary of their foundation. In that same year he was appointed Kantor at Freiberg, and co-director of the Gymnasium. In 1748 he wrote there, on the occasion of the hundredth anniversary of the Peace of Westphalia, the Singspiel (school opera), out of which arose the famous dispute between Biedermann, J. Mattheson and J.S. Bach. In January 1756 he succeeded Johann Gottlob Harrer as Kantor of the Thomasschule and also as director of the two principal churches, which posts he held until 1789, when old age and failing health compelled him to resign them.

In the spring of 1789 Mozart visited Leipzig, and on April 22 he played on the organ at Thomaskirche, and made his well-known remark to Doles about J.S. Bach's music. It was probably on the same occasion that J.C. Barthel played before Mozart at Doles's house. And in the following year Doles published his cantata to Gellert's words (performed in 1789), Ich komme vor dein Angesicht (Leipzig, 1790), dedicated to his friends Mozart and Naumann. Special interest attaches to this work, because its preface records Doles's opinions as to the way in which sacred music should be treated, and those opinions have little in common with the traditions of J.S. Bach. It is plain, indeed, that although Doles was proud of having been J.S. Bach's pupil, he took no pains whatever, during his directorship at Leipzig, to encourage and extend the taste for his great master's works. J.S. Bach's church music was almost entirely neglected both by him and his successor, Johann Adam Hiller. Doles had a lasting influence as teacher and choir trainer.

Works

A leading composer of Protestant church music, Johann Friedrich Doles wrote at least 160 cantatas, 35 motets, psalms, and several Passions, oratorios and masses. Some cantatas and motets are of the 'figured chorale' type virtually invented by him, simple chorale settings with orchestral ritornellos. He also composed sacred odes, lieder, organ chorales, many of which have been printed, including some sonatas for the clavicembalo and other keyboard music. Reflecting J.S. Bach's influence, his music is carefully crafted, but its style is more melodic. Some pieces are richly ornamented. Among his many works (see Q.-L.) may be mentioned three settings of the Passion-music, according to St. Matthew, St. Mark and St. John, two Te Deums, two Masses, a Kyrie, a Gloria, 1), Salve and a German Magnificat. His Elementary Instruction in Singing had, in its day, considerable reputation as a useful practical method.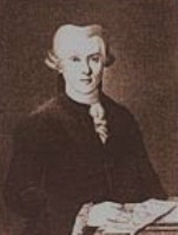 Source: Grove Concise Dictionary of Music (© 1994 by Oxford University Press); Grove's Dictionary of Music and Musicians (1952 Edition, by Mrs. Edmond Wodehouse)
Contributed by

Aryeh Oron (September 2005)
Bach's Pupils

: List of Bach's Pupils | Actual and Potential Non-Thomaner Singers and Players who participated in Bach's Figural Music in Leipzig | Bach's Pupils - Discussions: Part 1 | Part 2
Thomaskantors: Thomanerchor Leipzig | Gewandhausorchester Leipzig | General Discussions: Part 1 | Part 2
Use of Chorale Melodies in his works

Title

Chorale Melody

Year

Various chorale preludes for organ on Auf meinen lieben Gott

Cantata Herr wie du willst

Christ ist erstanden

Cantata for Choir, Soloists, and Orchestra

Ach Gott, wie manches Herzeleid

, Cantata for Chorus, Soloists & Orchestra

Cantata for Choir, Soloists and Orchestra: Meine Seele erhebt den Herren

O Gott, du frommer Gott

, Cantata

Cantata: In allen meinen Taten

Was Gott tut, das ist wohlgetan

, Cantata for choir soloists & Orchestra

Cantata Was mein Gott will, das gscheh allzeit

Wir Christenleut,

Cantata for Choir, Vocal Soloists & Orchestra