Recordings/Discussions
Background Information
Performer Bios
Poet/Composer Bios
Additional Information
Born: June 1586 (baptised: June 28, 1586) - Danzig, Germany
Died: May 6, 1666 - Danzig, Germany
Paul [Paulus] Siefert [Syfert, Sivert, Sibert, Sieffert] [Paulus Syfertius], was a German composer, organist and music theorist. In 1607-1608 he was a pupil of Jan Pieterszoon Sweelinck in Amsterdam, thanks to a purse which had been granted to him by the municipality of Danzig.

After returning to Danzig, Paul Siefert worked as temporary organist in his home city. From 1611 to 1616 he was employed at the old church of Königsberg, then as a member of the chapel of Sigismund III at Warsaw. Finally on September 23, 1623 he was appointed as titular organist of Marienkirche, principal church of Danzig, which he would not leave any more.

Paul Siefert was a prolific composer, who was always quarrelling with the Kapellmeisters for not doing justice to the performance of his works. This led to a published controversy between him and Marco Scacchi, the choir-master of Warsaw who in 1640 had criticised his psalms. These two persons competed by the number of collections published. Only 2 books of Psalms 4-8 v., a Te Deum, etc., and some organ pieces of his are still in existence (Q.-L.; Riemann). Christoph Bernhard and Andreas Neunhaber were his pupils.
Works
Collections of Vocal Works:
Psalmen Davids nach frz. Melodey oder Weise in Music componirt (Danzig, 1640)
Canticum seu Symbolum … Te Deum laudamus (Danzig, 1642)
Anticribratio musica ad avenam Scacchianam (Danzig, 1645)
Epithalamium … Regis Reginaeque Poloniae (Danzig, 1646); original edition lost, but the preserved music is included in Psalmorum Davidicorum.
Psalmorum Davidicorum, Ad Gallicam melodiam … pars II (Danzig, 1651); includes Canzon à 8 for instruments
Melisma harmonicum in honorem … Consulis Gedanensis Friderici Eleri (Danzig, 1647?); lost

Works for Organ:
Variations on Puer natus in Bethlehem
Choral Variations Nun komm der Heiden Heiland (anonymous; published under the name of Siefert)
Paduane
Fantasia
Benedicam Dominum (after motet of Orlando di Lasso)
|13 fantasias (doubtful authenticity).

Theoretical Works:
Anticribratio musica ad avenam Scacchianam (Danzig, 1645)
Examen musicum (Breslau 1649); lost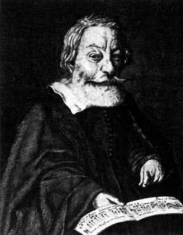 Source: Grove's Dictionary of Music and Musicians (1952 Edition); French Wikipdia Website
Contributed by

Aryeh Oron (April 2006)
Use of Chorale Melodies in his works

Title

Chorale Melody

Year

Chorale Variations for Instruments on Puer natus in Bethlehem

Nun komm der Heiden Heiland

, Chorale Variations. (authenticity in question)
Bibliography
M. Seiffert

: Paul Siefert. Biographische Skizze, Vierteljahrsschrift für Musikwissenschaft VII, 1891
C.-A. Moberg: Om Paul Sieferts 'Psalmen Davids' 1651, Eripainos Uusi Musiikkilehti VII/VIII, 1957
C. Dahlhaus (hrsg. unter W. Wiora): Cribrum musicum. Der Streit zwischen Scacchi und Siefert, in Norddeutsche und nordeuropäische Musik (Referate der Kieler Tagung, 1963), Kieler Schriften zur Musikwissenschaft XVI, Kassel 1965
W. Nitschke: Zu Paul Sieferts Psalmen, Kongreßbericht Bonn 1970
---
Last update: Wednesday, June 14, 2017 15:49