Recordings/Discussions
Background Information
Performer Bios
Poet/Composer Bios
Additional Information
The score samples below contain an excerpt from a responsorial St. Matthew Passion which might have been performed in those Leipzig churches in Bach's time where a figural performance did not take place. This is a much simpler form of musical Passion that resembles quite closely what Martin Luther may have heard in churches during his time His friend and collaborator, Johann Walter, is responsible for this setting which is taken from the Vopelius Hymnal printed in Leipzig in 1682. Very likely this type of Passion was performed near (at either side of the altar) with a division of roles: Evangelist, the two who bore false witness here represented by a turba chorus, Caiphas, and Jesus. There were other parts as well, but these are not included on the two pages depicted here.

I hope this will be of interest to those who seek more information about the various type of Passion performances that took place during Bach's time.
Excerpt from the original Walter's Passion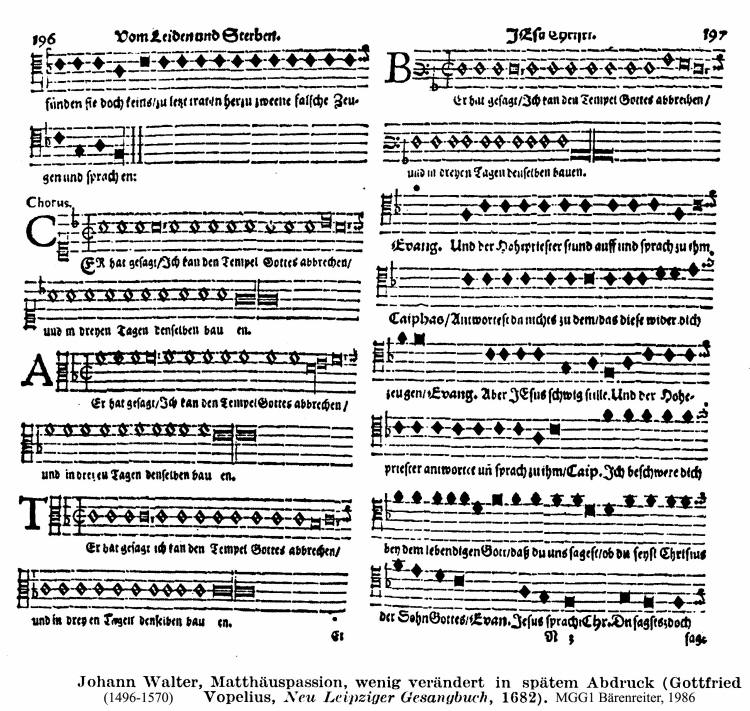 Musical translation of this in modern notation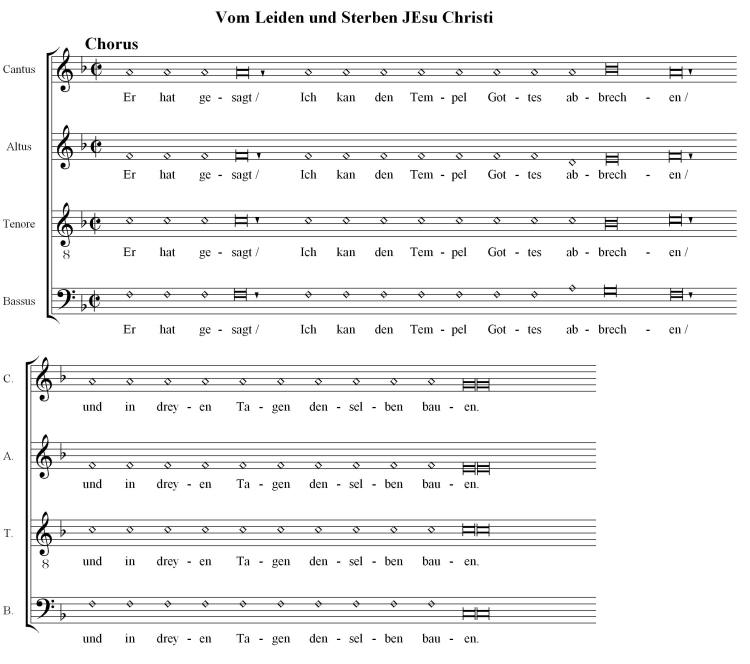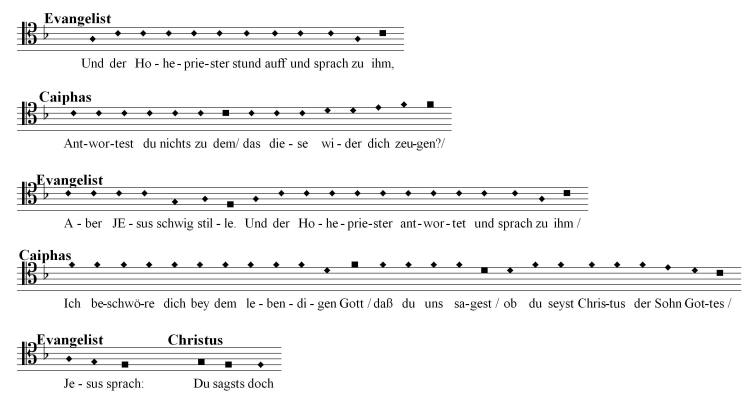 Text
Below is the transliterated (modern German/Roman type) of the original along with the Luther 1545 original, the New Living Bible and the King James Version translations into English.
Luther 1545 Matthew 26:60-64

und fanden keins. Und wiewohl viel falsche Zeugen herzutraten, fanden sie doch keins. Zuletzt traten herzu zwei falsche Zeugen 61 und sprachen: Er hat gesagt: Ich kann den Tempel GOttes abbrechen und in dreien Tagen denselben bauen. 62 Und der Hohepriester stund auf und sprach zu ihm: Antwortest du nichts zu dem, was diese wider dich zeugen? 63 Aber JEsus schwieg stille. Und der Hohepriester antwortete und sprach zu ihm: Ich beschwöre dich bei dem lebendigen GOtt, daß du uns sagest, ob du seiest Christus, der Sohn GOttes. 64 JEsus sprach zu ihm: Du sagst es. Doch sage ich euch

NLT Matthew 26:60-64 hey could not use anyone's testimony. Finally, two men came forward 61 who declared, "This man said, 'I am able to destroy the Temple of God and rebuild it in three days.'" 62 Then the high priest stood up and said to Jesus, "Well, aren't you going to answer these charges? What do you have to say for yourself?" 63 But Jesus remained silent. Then the high priest said to him, "I demand in the name of the living God-- tell us if you are the Messiah, the Son of God." 64 Jesus replied, "You have said it. And

KJV Matthew 26:59-64 sought false witness against Jesus, to put him to death; 60 But found none: yea, though many false witnesses came, yet found they none. At the last came two false witnesses, 61 And said, This fellow said, I am able to destroy the temple of God, and to build it in three days. 62 And the high priest arose, and said unto him, Answerest thou nothing? what is it which these witness against thee? 63 But Jesus held his peace. And the high priest answered and said unto him, I adjure thee by the living God, that thou tell us whether thou be the Christ, the Son of God. 64 Jesus saith unto him, Thou hast said: nevertheless I say unto you,
Evangelist: …funden sie doch keins / zu letzt traten herzu zweene falsche Zeugen und sprachen:

Chorus (Turba) : Er hat gesagt / Ich kann den Tempel Gottes abbrechen / und in dreyen Tagen denselben bauen.

Evangelist: Und der Hohepreister stund auff und sprach zu ihm

Caiphas: Antwortest du nichts zu dem / das diese wider dich zeugen /

Evangelist: Aber Jesus schwie g stille. Und der Hohepriester antwortete und sprach zu ihm /

Caiphas: Ich beschwöre dich bey dem lebendigen Gott / daß du uns sagest / ob du seyst Christus der Sohn Gottes /

Evangelist: Jesus sprach:

Christus: Du sagsts / doch
Contributed by Thomas Braatz (December 20, 2006)