Recordings/Discussions
Background Information
Performer Bios
Poet/Composer Bios
Additional Information
Born: 1933 - Paterson, New Jersey, USA
Died: September 12, 2004 - Newark, New Jersey, USA.
The American composer and pianist, Richard Lane, graduated from the Eastman School of Music where he studied piano with Jose Echaniz and Armand Basile and composition with Louis Mennini (1920-2000), Wayne Barlow (1912-1995) and Bernard Rogers (1893-1968).

Richard Lane's compositions include orchestral, band and choral works, as well as piano concertos, piano solos, works for voice and piano, and solo works for almost every instrument. His music has been performed extensively throughout the USA, Europe, Africa, Australia, Mexico and in the former Soviet Union by artists including principal New York Philharmonic Orchestra musicians Stanley Drucker and Philip Smith; flutist Donald Peck of the Chicago Symphony Orchestra as well as countless others.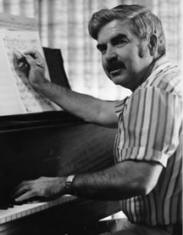 Source: Edition BIM & The Brass Band Website
Contributed by

Aryeh Oron (July 2007)
---
Last update: Wednesday, June 14, 2017 15:18