Recordings/Discussions
Background Information
Performer Bios
Poet/Composer Bios
Additional Information
Born: December 7, 1841 - Wechold, near Hoya in Lower Saxony, Germany
Died: April 13, 1894 - Berlin, Germany
The music historian (and composer), (Julius August) Philipp Spitta, was one of the most important Bach scholars.

Philipp Spitta studied classical philology in Göttingen, and wrote his Ph.D. thesis on syntax in Tacitus. From 1866 he was a teacher in Reval (now Tallinn). As early as 1864 he presented a lecture on Bach, but it was probably only after his move to the 'Bach country' (Sangerhausen, in Thuringia) in 1867 that he began work on his monumental biography. The first volume of Johann Sebastian Bach, covering the years up to 1723, appeared in 1873. In 1874 he became a teacher at the Nikolaischule in Leipzig; again in a Bach environment, he hoped to finish the second volume, covering Bach's Leipzig years. But only a year later he was invited by the Prussian government in Berlin to become a member of the Königliche Akademie der Künste, reader in music history at the conservatory, and professor at the university. Nevertheless, he kept in touch with Leipzig, especially as a supervisor of the highly active Leipzig Bach-Verein. The Bach biography was finished in 1880.

Philipp Spitta was convinced that Bach could not be understood without deep insight into the historical context of 17th-century music, and it was this that led him to establish a proper basis for Heinrich Schütz research; his edition of Schütz's works was finished only a few days before his death. He also edited Dietrich Buxtehude's organ works (among other music) and supported the Denkmäler Deutscher Tonkunst founded in 1892. His activities are also reflected in the dissertations of his pupils: Emil Vogel on Monteverdi and the Italian madrigal, Max Seiffert on Jan Pieterszoon Sweelinck. His interest in music of the 19th century (as an ardent anti-Wagnerian) is documented not only in his letters to composers like Johannes Brahms, Bruch, and Heinrich von Herzogenberg, but also in his articles on Schumann and Weber in Grove's Dictionary (1883-9).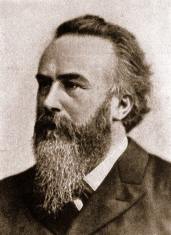 Source: Oxford Composers Companion - J.S. Bach (by Konrad Küster, Oxord University Press, 1999)
Contributed by

Aryeh Oron (March 2006)
Use of Chorale Melodies in his works

Title

Chorale Melody

Year

Partita Erschienen ist der herrlich Tag for Soprano, Female Voices. and Strings, op. 96, Ms.
Bibliography
U. Schilling

: Philipp Spitta: Leben und Wirken im Spiegel seiner Briefwechsel (Kassel, 1994).
---
Last update: Wednesday, June 14, 2017 15:50