Cantata BWV 7
Christ unser Herr zum Jordan kam
Examples from the Score with Commentary
Mvt. 1 | Mvt. 2 | Mvt. 3 | Mvt. 4 | Mvt. 5 | Mvt. 6 | Mvt. 7
Schweitzer, in his book on J.S. Bach (Translation, Dover, 1966) gives a list of all the wave-motifs. The 1st example is definitely open to dispute [see Dürr's commentary regarding this.]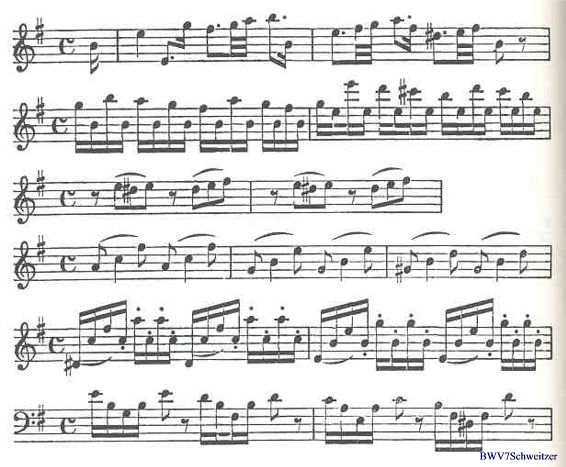 This is one of many examples of Bach's markings for the dynamics he wants. Sometimes it appears that the markings did not occur for certain instruments, but this could be explained by looking elsewhere in these parts to ascertain that Bach really wanted them there as well. Since the original score is missing, thanks to W.F.Bach, only the parts could be considered as the primary source. In these Bach added the special markings, but the NBA editors include only what can be considered genuine markings in Bach's own hand.

In the next example is more noticeable with the eyes than with the ears, since the passage can not really be considered chromatic. Almost all the sharps get 'washed' away at the words, "zu washen uns" and as soon as those words have been sung, the sharps begin to disappear.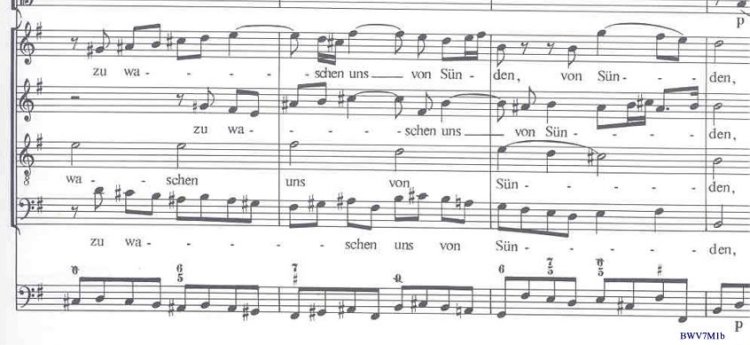 The 'plunging'-motif occurs on the words, "ersäufen auch" ('to drown bitter death') where Death is pushed down into the water, again and again, until it drowns completely. The motif is prepared in the basso continuo and then picked up by the bass voice.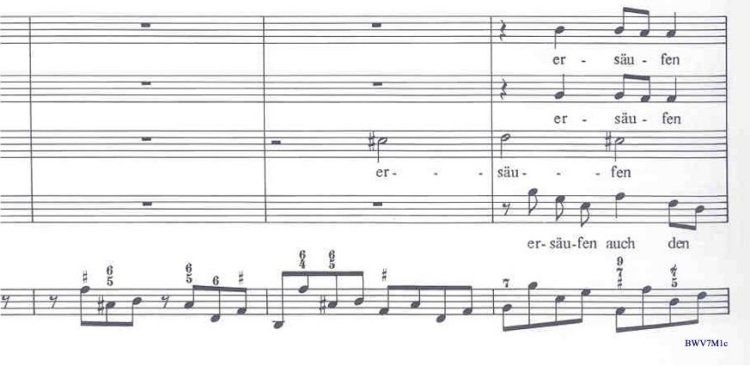 As the bass sings about baptism, the figure in the continuo pictures the immersion motif which relates to the first baptism.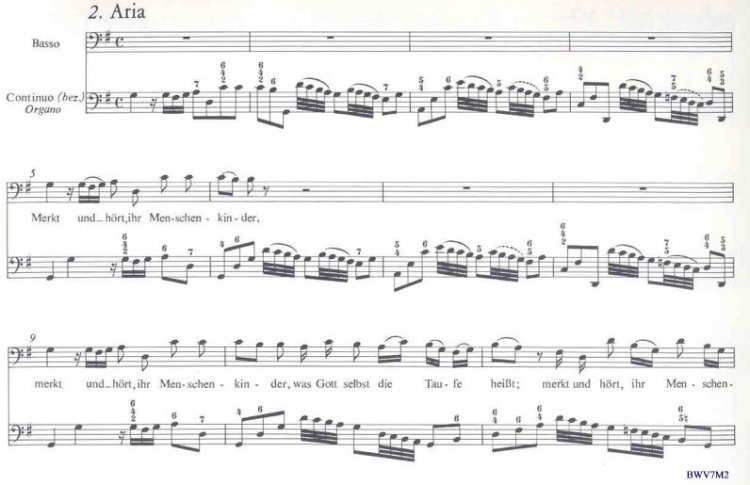 In this recitative we find the usual techniques that Bach uses to color the contrasts of high and low on the words, "hohen" and "niedriger."

The long melisma which the tenor sings on the word, "getauft" ("baptized") once again shows the dipping/immersion of baptism as a musical picture with downward movement in the part.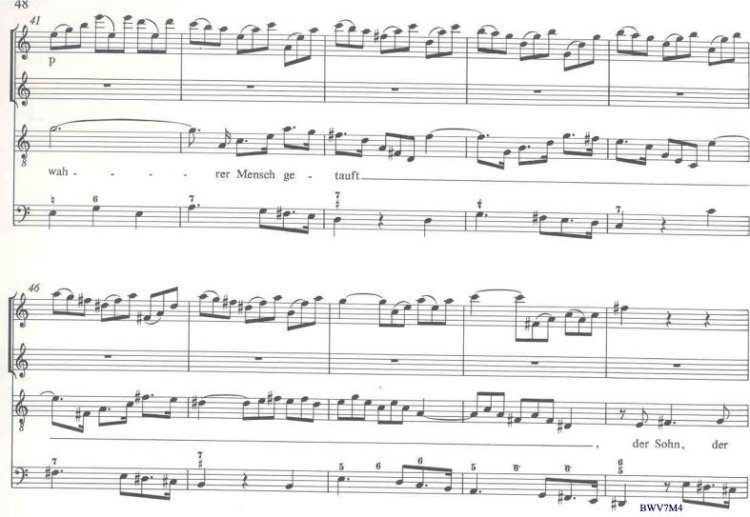 At the words, "Gehet hin in alle Welt" ("Go forth into the whole world") the shift from recitative to arioso occurs (Andante) and a stepping movement is established in the strings.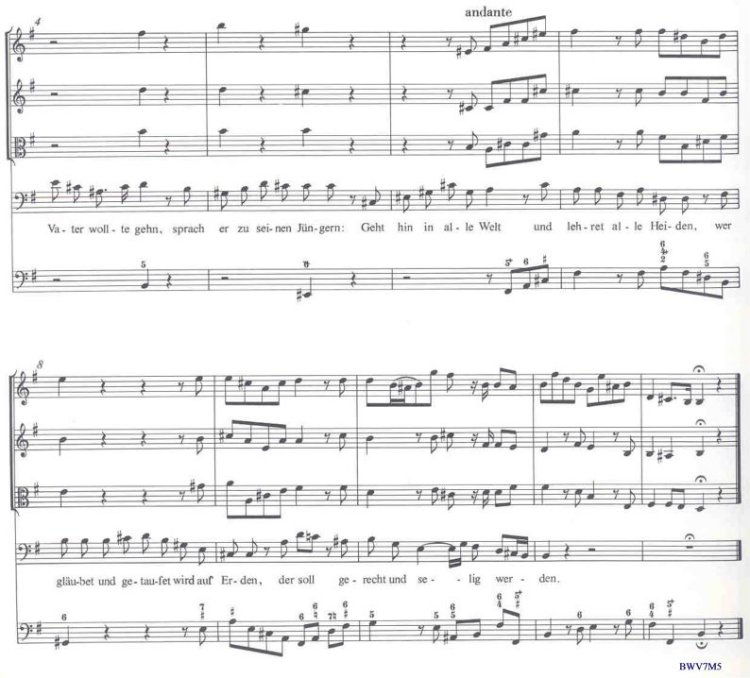 A rather unusual beginning for this aria without an instrumental ritornello. This form is called a 'cavata.'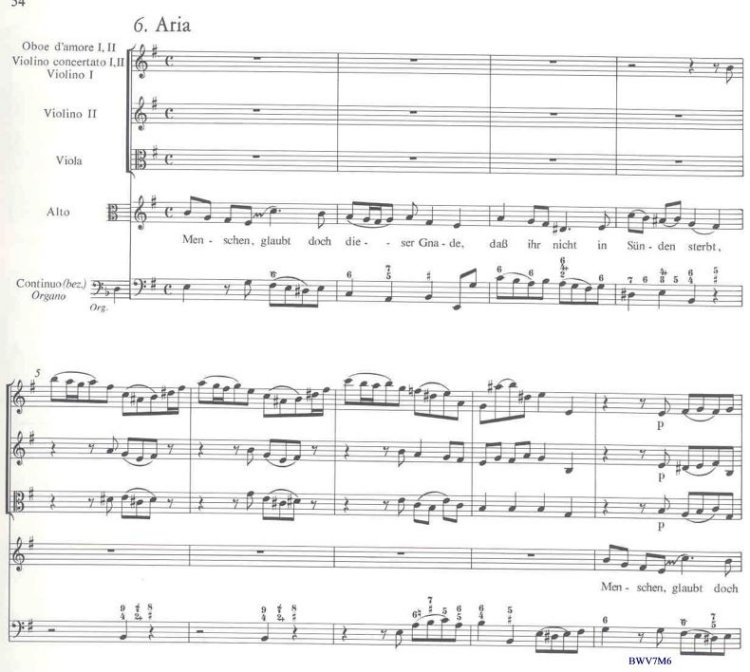 See Eric Chafe for an explanation of the significance of the last phrase in this chorale.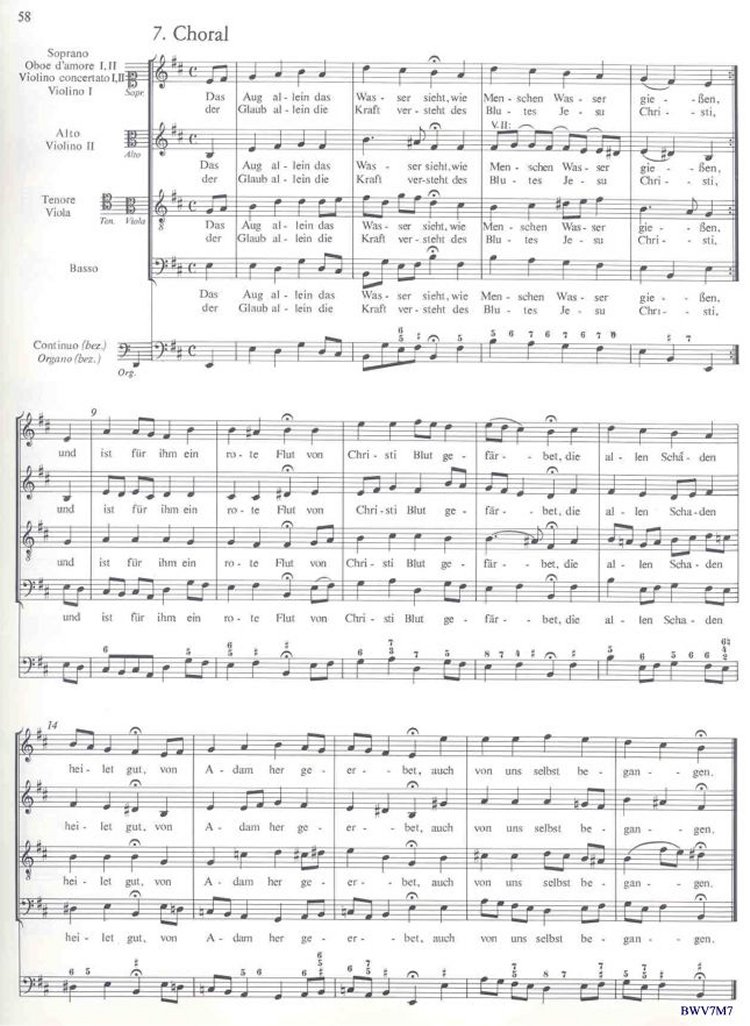 All snippets taken from NBA I/29
Contributed by Thomas Braatz (July 1, 2001)