Recordings/Discussions
Background Information
Performer Bios
Poet/Composer Bios
Additional Information
Born: England
The English conductor, harpsichordist and organist, Matthew Halls, was educated at Oxford University.

Having initially established his reputation as a keyboard player, Matthew Halls has worked extensively with many of Europeís foremost early music groups and in opera houses including The Netherlands Opera, Bayerische Staatsoper, Komische Oper Berlin, as well as at venues such as The Megaron, Athens, Lincoln Center, New York and Wiener Festwochen. In recent years he has been a member of the Amsterdam Baroque Orchestra. He was temporarily appointed director of The Kingís Consort from June 2007 to May 2009. He has recorded numerous CD's as a continuo player and soloist. He has also performed with Baroque orchestras including Les Arts Florissants and The Orchestra of the Age of Enlightenment. Together with violinist Monica Huggett, Matthew Halls makes up the core of the chamber music ensemble.

Matthew Halls has established himself as one of todayís leading young conductors. Hall has appeared as a guest conductor with both Baroque ensembles (The English Concert, Portland Baroque Orchestra) and with modern orchestras (Rundfunk Sinfonieorchester Berlin, London Mozart Players). He has conducted in such prominent venues as Het Concertgebouw, Amsterdam; La Cité de la Musique, Paris; the Konzerthaus, Berlin; and at the Palais des Beaux Arts, Brussels. Beyond the early repertoire for which he has initially become known, Halls is known for his passion for the Germanic repertoire, particularly L.v. Beethoven, Johannes Brahms, Robert Schumann and Schubert. As a conductor of choral music he has conducted an eclectic cross section of the repertoire, juxtaposing composers as diverse as Byrd and Benjamin Britten, Gesualdo and Arnold Schoenberg.

The 2007-2008 season firmly established Matthew Halls as a conductor of international repute. During this season he made a number of significant debuts with European orchestras. These included performances of J.S. Bach's Christmas Oratorio (BWV 248) with Rundfunk Sinfonieorchester Berlin at the Berlin Konzerthaus and programs of Baroque and Classical repertoire with the HR-Sinfonieorchester, Norrköping Sinfonieorchester, Orchestre Philharmonique de Monte-Carlo and London Mozart Players. Halls' debut with the Scottish Chamber Orchestra early in the 2008-2009 season led to an immediate reinvitation to conduct the final concert of the Edinburgh International Festival in 2009, whilst his debuts at Handelfestspiele Halle and Central City Opera Colorado also resulted in immediate reinvitations, the latter to conduct a production of Pucciniís Madame Butterfly. Forthcoming orchestral engagements include concerts with the Netherlands Radio Philharmonic, Ulster Orchestra, Iceland Symphony, Hamburger Symphoniker and Les Violons du Roy, and a performance of George Frideric Handels little known Floridante at the Handelfestspiele Halle.

In May 2009, Matthew Halls conducted the much anticipated inaugural performance of the exciting new group, Retrospect Ensemble, of which he is Artistic Director. The launch concert, a performance of George Frideric Handelís oratorio Jephtha at the opening night of the Norfolk and Norwich Festival, was closely followed by the Retrospect Ensembleís debut at the Edinburgh International Festival, performing a programme of Bach cantatas with soprano Carolyn Sampson. Future plans include their debut at the Dresdner Musikfestspiele, tours of Europe and to the Far East, an annual series at Wigmore Hall, (which will form the backbone of their concert diary) and a recording agreement with the innovative Linn Records.

Matthew Halls has a long established pedigree in the opera house. Having become known as one of the leading chorus masters in Europe, he has subsequently conducted a wide range of repertoire with companies such as English Touring Opera, New Chamber Opera and Amsterdam Bach Festival. Last season (2008-2009) he conducted the UK premiere of Georg Bendaís opera-singspiel Romeo and Juliet in conjunction with Bampton Classical Opera and London Mozart Players. His operatic repertoire naturally covers all the Renaissance, Baroque and Classical works, but also extends to a wide range of much later repertoire, with a particular focus on the Italian Bel Canto and the B. Britten operas. His association with both The Netherlands Opera and Nationale Reisopera Holland have included productions of Verdi's Luisa Miller, B. Britten's Peter Grimes and Bellini's Norma, as well as G.F. Handelís Hercules, Samson, Solomon and Saul. This past season (2008-2009) he made an acclaimed North American opera debut conducting G.F. Handelís Rinaldo for Central City Opera, who immediately invited him back to conduct Madama Butterfly in the 2010 season.

Matthew Halls remains very active as a harpsichordist, with Bach recitals at venues across the UK, including the South Bank Centre and Wigmore Hall, and performances including the Goldberg Variations (BWV 988) as far afield as Israel, Ottawa, Quebec City and Moscow. This past winter he toured Europe performing Brandenburg Concerto No. 5 with John Eliot Gardiner and the English Baroque Soloists, ending the tour with a recording in Cité de la Musique in early 2009.

Following his studies, Matthew Halls joined the teaching faculty of the Oxford University for five years. Passionately committed to education and working with young musicians, the development of Retrospect Ensembleís Young Artist Programme has been a priority for him. Matthew is also a tutor for the European Union Baroque Orchestra and regularly teaches on summer schools and courses such as the Jerusalem Early Music Workshop and the Dartington International Summer School.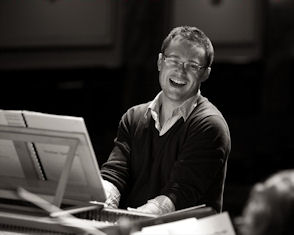 Source: Hazard Chase Website (Photos by Eric Richmond); Channel Classics Website; Schwalbe and Partners, Inc. (March 2010)
Contributed by

Aryeh Oron (February 2010); Carrie Sykes - Executive Vice President, Schwalbe and Partners, Inc. (March 2010)
Matthew Halls

: Short Biography | Retrospect Ensemble | Recordings of Vocal Works | Recordings of Instrumental Works
Recordings of Bach Cantatas & Other Vocal Works
Conductor
As
Works
Harpsichord, Organ
Member of

English Baroque Soloists:
BCP Vol. 5: CD-1:BWV 178, BWV 136, BWV 45
BCP Vol. 10: CD-1: BWV 48, BWV 5, BWV 90, BWV 56; CD-2: BWV 79, BWV 192, BWV 80
BCP Vol. 25: CD-2: BWV 44, BWV 150, BWV 183, J.C. Bach: Fürchte dich nicht
David Halls
Organ
Chorale from

BWV 147 [w/ Salisbury Cathedral Choir]
Organ
Member of :

Amsterdam Baroque Orchestra:
Cantatas Vol. 13: CD-1: BWV 1, BWV 62, BWV 96, BWV 62: Appendix; CD-2: BWV 38, BWV 93, BWV 33; CD-3: BWV 133, BWV 122, BWV 92
Cantatas Vol. 17: BWV 169, BWV 32, BWV 58, BWV 84; BWV 19, BWV 13; BWV 17, BWV 57
Cantatas Vol. 14: CD-1: BWV 68, BWV 6, BWV 74, BWV 126; CD-2: BWV 125, BWV 1045; CD-3: BWV 103, BWV 42, BWV 123, BWV 103: Appendix, BWV 42: Appendix
Cantatas Vol. 18: CD-1: BWV 55, BWV 47, BWV 157, BWV 45; CD-2: BWV 52, BWV 187, BWV 151, BWV 98; CD-3: BWV 137, BWV 164, BWV 36
Cantatas Vol. 20: CD-1: BWV 120a, BWV 156; CD-2: BWV 149, BWV 14, BWV 29, BWV 192; CD-3: BWV 120, BWV 11, BWV 9, BWV 112
Cantatas Vol. 21: CD-1: BWV 100, BWV 200, BWV 177, BWV 195; CD-2: BWV 140, BWV 34, BWV 143, BWV 158; CD-3: BWV 197, BWV 97, BWV 118, BWV 191
Cantatas Vol. 22: CD-1: BWV 80, BWV 236, BWV 30; CD-2: BWV 233, BWV 234, W.F. Bach: Gaudete omnes populi, F103; CD-3: BWV 30a, BWV 235
Wedding Chorales BWV 250-252
Links to other Sites
Hazard Chase: Matthew Halls
Schwalbe and Partners: Matthew Halls